Advanced Cardiology Care in Your Community
Our state-of-the-art Interventional Radiology and Cardiac Catheterization Laboratory (IR/Cath Lab) at USC Verdugo Hills Hospital (USC-VHH) offers best-in-class cardiology care in your community.
Our team of experienced cardiologists and surgeons treat simple to complex cardiovascular conditions, such as coronary artery disease and peripheral artery disease, and provide a full range of diagnostic and preventive cardiology services, including:
Angioplasty
Arterial stenting
Electro-physiology
Heart catheterization
Pacemaker implantation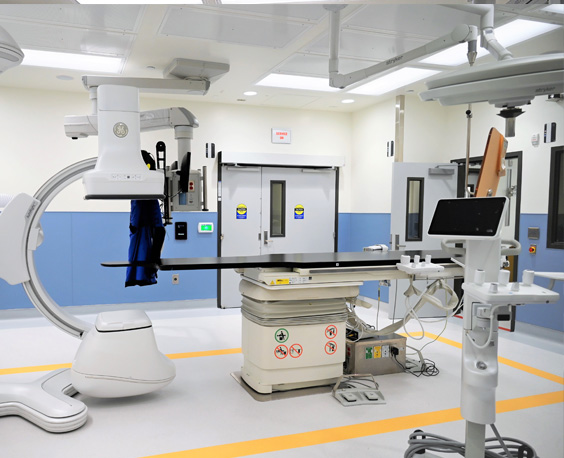 We also offer interventional radiology services to treat and diagnose conditions such as:
Cancer
Heart and vascular disease
Men's health conditions
Neurological disorders
Spine disorders
Women's health conditions
Why Choose Us for Cutting-Edge IR/Cath Lab Services
Our IR/Cath Lab combines the expertise of our world-class cardiology and surgery specialists with the most advanced technology to offer you best-in-class care, close to home.
We offer minimally invasive, image-guided interventional radiology procedures to help improve recovery times and patient outcomes.
We partner with cardiologists and surgeons from the USC Cardiac and Vascular Institute to deliver complete care for all types of heart conditions.
Our team leverages cutting-edge technology to provide a full range of heart catheterization and interventional radiology procedures and treatment options.
Electrophysiology
Kenny Kita, MD
Junaid Zaman, MD
Vascular Surgery
Vincent Rowe, MD
Fred Weaver, MD
All Programs, Classes and Events
Maternity tours are currently on hold. Please call (818)
This lecture series will present a variety of health-related topics to community members throughout the year.
USC Verdugo Hills Hospital's family education program offers babysitting