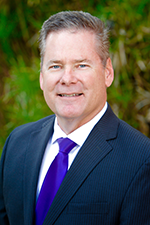 Keith Hobbs, MBA, FACHE, CMPE
Chief Executive Officer
Keith M. Hobbs, MBA, FACHE, CMPE, has served as chief executive officer at USC Verdugo Hills Hospital (USC-VHH) since January 2016. During his tenure at the 158-bed community hospital, Hobbs has been instrumental in overseeing the financial turnaround, culture change and the improvement of the quality of care at USC-VHH. As part of Keck Medicine of USC's health system, Hobbs oversees USC-VHH's key service lines, which include emergency medicine, urology, labor and delivery, women's health services, orthopaedics, neurosurgery, behavior health services and transitional care, among others. Under Hobbs' leadership, the hospital has added a neonatal intensive care unit and 3D tomography; built a physician network strategy; continues to build out the health system's existing GME resident program; and is bringing an IR/Cath lab to the hospital's array of services.
With a constant eye on quality, patient experience, employee engagement, resource efficiencies and community perception, Hobbs has built a leadership team that has made tremendous strides in these areas. Hospital leadership has effectively implemented a daily tiered huddle system to improve daily communication from the front line to the C-suite to ensure regular staff communication and patient safety. Harm events have been reduced by over 64% and emergency department Press Ganey scores have moved from the bottom quartile to the top quartile nationally. Community board engagement and community health education and resources have also flourished. By focusing on revenue cycle improvements and cost saving initiatives, Hobbs and his team have improved the hospital's financials by $20 million annually over the course of three years. By building a culture of trust, employee engagement scores at USC-VHH are among the highest in the health system.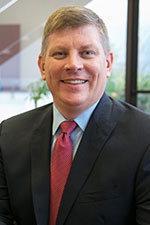 Kenny Pawlek
Chief Operating Officer
Kenny Pawlek joined USC Verdugo Hills Hospital (USC-VHH), a 158-bed community hospital in the Keck Medicine of USC health system, as chief operating officer in March 2016. In this role, Kenny leads the day-to-day operations in alignment with Keck Medicine of USC's strategic priorities and service culture. Kenny oversees all ancillary clinical operations, facility maintenance, EVS and food services. He is responsible for all construction and equipment purchases and participates in strategic planning, business development and physician recruitment. He works closely with the CEO and other executive leaders to ensure that USC-VHH fulfills its commitment to exceptional, high-quality patient and family-centered care.
Prior to joining USC-VHH, Kenny spent 12 years at Children's Hospital Los Angeles (CHLA), where he held positions in inpatient, outpatient and research operations. His focus at CHLA was on developing and enhancing clinical programs to improve patient care.
Kenny holds BS and MS degrees in engineering from Harvey Mudd College; an MBA from the University of Southern California; and is a fellow of the American College of Healthcare Executives (ACHE). He is an active member of ACHE and Healthcare Executives of Southern California and serves on the board of directors for Family Promise of the Verdugos, the Glendale Police Foundation and the Flintridge Preparatory School Father's Club.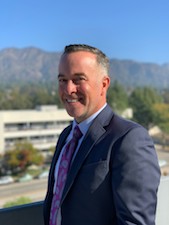 Jason Kell
Associate Chief Financial Officer
Jason Kell is the associate chief financial officer of USC Verdugo Hills Hospital. He works closely with executive, clinical and strategic leaders to help develop long-range strategic and capital plans. Before joining USC-VHH, he spent 13 years at Providence St. Joseph Health's southern California region in a variety of roles, including financial planning and analysis, population health and managed care.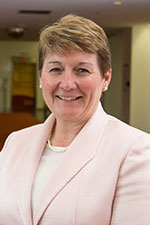 Theresa Murphy, RN, MS, CENP
Chief Nursing Officer
Theresa Murphy, RN, MS, CENP, joined USC Verdugo Hills Hospital (USC-VHH) as the chief nursing officer in June 2015. She brings more than 25 years of experience in the health care industry, spending much of that time at Keck Medicine of USC in various roles at Keck Hospital of USC, USC Norris Cancer Hospital and USC Care. Theresa also spent a year as the assistant CNO at St. Vincent Medical Center prior to her return to USC-VHH.
In addition to clinical practice as a registered nurse, Theresa has served in several hospital and academic organizations. She currently serves as the chair of the Nurse Advisory Council for HASC, on the CNO Advisory Committee for the California Hospital Association, on the Board of Directors of the Chin Family Institute for Nursing at California State University, Los Angeles, the Advisory Board of the O'Rourke Institute for Advancement of Professional Practice and the advisory board of the Department of Healthcare Administration at California State University, Long Beach. Theresa also serves as an evaluator for the BETA HEART Event Review Panel.
Theresa graduated from LeMoyne College with a bachelor's degree in religious studies; from California State University, Los Angeles with a bachelor's degree in nursing; from California State University, Long Beach with a master's degree in health care administration and has been certified in executive nursing practice from the American Organization of Nurse Leaders.
In addition to her duties at USC-VHH, Theresa occasionally lectures at Mount St. Mary's University and volunteers with the Executive Service Corps, providing executive coaching to leaders serving community nonprofit organizations.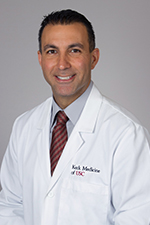 Armand H. Dorian, MD, FACEP, MMM
Chief Medical Officer, Business Development
Armand H. Dorian, MD, FACEP, MMM, joined the USC Verdugo Hills Hospital (USC-VHH) executive team in July 2018 as the chief medical officer, business development, to help lead the physician medical staff as well as program development at USC-VHH. He is an associate professor of emergency medicine at the Keck School of Medicine of USC, former chair of the Caduceus Society and serves as both a foundation board member and community board member at USC-VHH. Dr. Dorian brings nearly two decades of medical experience as an emergency board-certified physician and valued leader and administrator. Dr. Dorian has dedicated himself to USC-VHH and the community in which it serves.
Dr. Dorian is a compassionate physician executive who has been able to inspire, motivate and lead by instilling a culture of honesty, integrity, collegiality, accountability and empathy. He is focused on channeling his passion and commitment through great communication and decision-making, allowing his team to express their creativity and innovation, creating an environment for success. Consultant to many Fortune 400 companies, Dr. Dorian provides a highly sought-after combination of medical, media and business competency. He is a problem-solver with a solid track record of leading change and implementing programs to improve patient care, provider wellness and physician engagement while reducing costs. He is data-driven and evidence-based-driven, with the ability to build successful teams and foster positive and collaborative relationships. Dr. Dorian has a successful, longstanding and deep relationship with all-things media, vertically integrated with the entire industry. He is a medical expert, host, actor, writer and producer on many television shows, like "ER," "EXTRA," "Grey's Anatomy," "Inside-Edition," and news stations like CNN, FOX, MSNBC, ABC, NBC, KTLA and CBS. He has published in trusted and respected medical and scientific journals. He has also been featured in numerous magazines, newspapers and websites, including the Los Angeles Times, New York Times, Huffington Post, Esquire, Chicago Sun-Times, TMZ, Yahoo Health, Buzzfeed and the Associated Press, to name a few.
Dr. Dorian and his wife, Aslin, have three beautiful children, Avand, Hooys, and Jivan, which he truly regards as his biggest achievement.