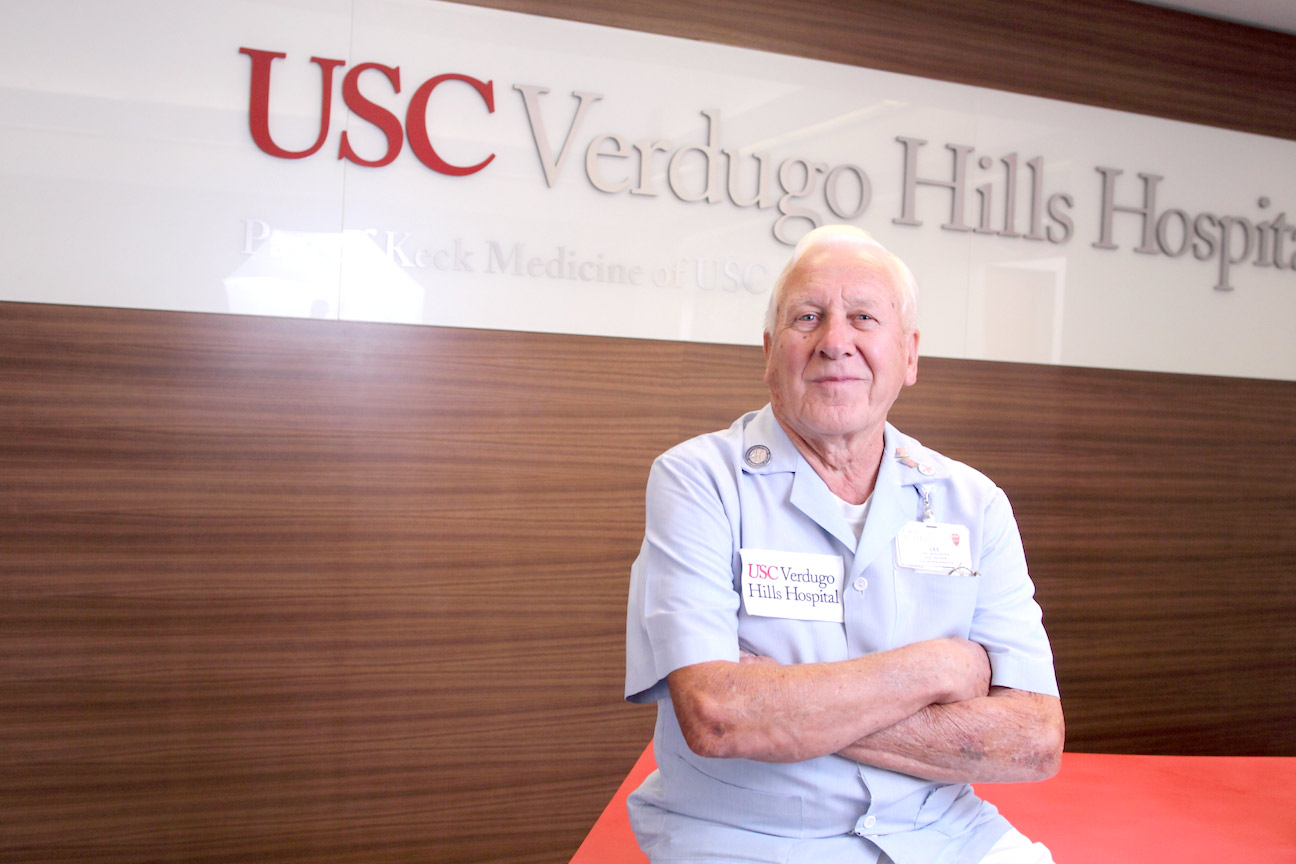 A major pillar of USC Verdugo Hills Hospital is its dedicated core of volunteers. Established in 1972, the Volunteer Services Department attracts, retains and recognizes qualified in-service volunteers. Currently, there are more than 200 dedicated volunteers, ranging in ages from 16 to 95, who provide their time and talent as volunteers in many areas in the hospital. The caliber of individuals working as a hospital volunteer is exceptional; many are retired professionals and business people. Last year, volunteers contributed some 34,000 hours of services and raised nearly $60,000 in proceeds through their work in the gift shop.
The Volunteer Services Department has positions open in the following areas:
Messenger/Transport Office

Offers information and assistance to visitors and patients
Transports patients, as needed

Information Desk

4th Floor:

Greeting visitors
Giving clear directions and information to visitors
Accepts all flower deliveries for patients and employees

3rd Floor:

Oversees incoming patients for Admitting Department
Serves as liaison between doctors and patients' families
VHH Volunteer applicants should:
Be at least 16 years of age
Exhibit a professional appearance and manner
Exhibit a positive attitude
Be dependable
Show commitment to the hospital
Rewards for Volunteering at USC Verdugo Hills Hospital:
Satisfaction of doing something for others
Opportunity to share your skills and learn new ones
Make a difference by serving your community
Enjoyment of making new friends and having fun
For student volunteers, earning service hours
Contact Us
If you are interested in volunteer opportunities, please contact us at (818) 952-2215.
Adult Volunteers
Positions are open throughout the year. Please contact the department at 818-952-2215.
Please click here if you are interested in joining the Women's Council.
Student Volunteers
Student Volunteer positions are now available for the following days/times:
Monday – Thursday: 4 – 7 p.m.
Saturdays and Sundays: 9 a.m. – 12 p.m.; 12 – 3 p.m.; 2 – 5 p.m.