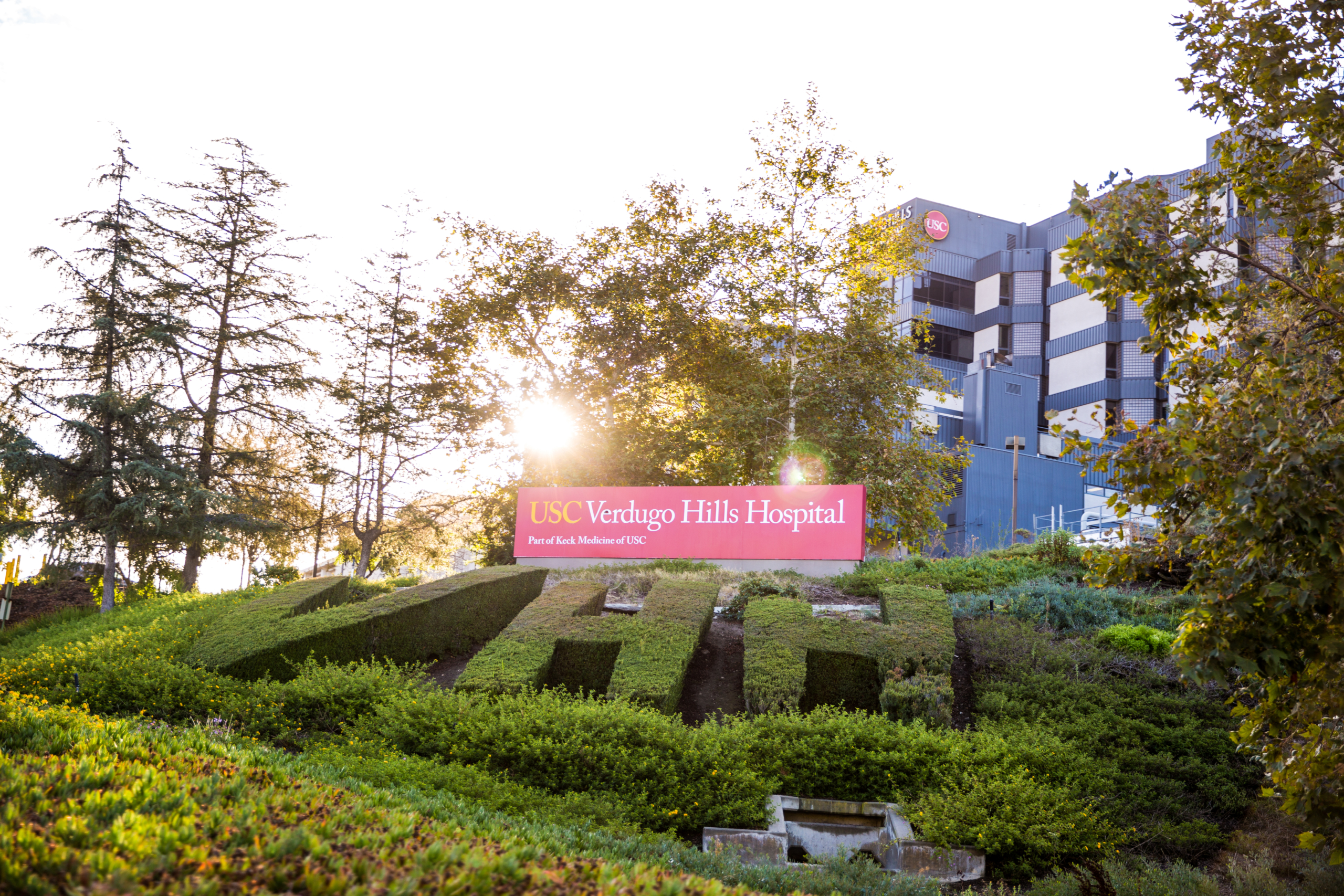 Cafeteria
The cafeteria is located on the 2nd floor. This full-service cafeteria offers a wide selection of hot and cold menu items daily. The "Verdugo Hills Express" section of the cafeteria features fresh-made sandwiches, salads, fresh fruit and more. Our lunch options include salad bar, soup, pizza, hamburgers, fries, chicken strips, daily specials and more. A variety of beverage choices as well as snacks and desserts are also offered. Vending machines are located in the cafeteria for your convenience.
Gift Shop
Looking for a gift for a new mother or baby? Something to cheer up a family member? Maybe even a treat for yourself? The USC Verdugo Hills Hospital Gift Shop, located on the fourth floor lobby, has all that and much more.
We invite all of our friends in the community to come check out our wide variety of jewelry, collectibles, books, magazines, greeting cards, candy, toiletries and flowers. Our friendly staff is happy to assist you in finding the perfect gift.

Phone Orders
We also accept phone orders. Please give us a call at (818) 790-7100.
(Visa®, MasterCard® and Discover® accepted.)

Hours
Monday – Friday: 11 a.m. – 4 p.m.
Saturday and Sunday: Closed
Healing Arts Initiatives
USC-VHH offers a healing arts program that uses the power of art to promote healing in our patients. Based on multiple studies that show a connection between engaging with the creative arts and health, we encourage patients to participate in a number of art-based options.
The program includes rotating and permanent art exhibits by local artists, a mobile Art Cart that allows patients to take home a framed print of their choosing, a digitized Healing Arts Stories iPad program and clinical art therapy that promotes healing through pain management, stress reduction and adjustment to hospitalization, as well as rehabilitation for stroke survivors.
Learn More >>
Insurance
USC Verdugo Hills Hospital accepts most insurance plans. USC Verdugo Hills Hospital participates in many Health Maintenance Organizations (HMOs) and Preferred Provider Organizations (PPOs) that are available in Southern California. This includes both Medicare and commercial insurance plans. However, your ability to pay should not prevent you from seeking needed medical care.
If you have further questions, please call 818-952-4730.
Parking
Free parking for patients and visitors is available 24 hours a day, seven days a week. Preferred parking is designated for patients and visitors outside the main entrance to the hospital as well as throughout the hospital campus.
For more information about parking, please call 818-952-2240.
Patient and Family Services
Patient and Family Services has case managers who are assigned to each patient care area and are trained to help patients and family members deal with financial, social, and other problems that relate to illness or hospitalization. Members of the department work with patients and families to help deal with a variety of issues, including discharge planning, social work referrals, and community resources.
Private Rooms
USC Verdugo Hills Hospital primarily offers private rooms with a view of the Foothills.
Visitors
Visiting hours are from 10 a.m. to 8 p.m. Family members and friends are welcome and encouraged to visit during visiting hours.
There are designated lounge areas for visitors on each patient floor and on the main lobby floor (4th floor). Specific waiting areas have been designated for families of patients in the ICU, the Emergency Department and Surgery.
Patients have the right to designate visitors who shall receive the same visitation privileges as the patient's immediate family members, regardless of whether the visitors are legally related to the patient.
Wireless
Patients and visitors can get free Internet access from their wireless-enabled laptops while they are on site at USC Verdugo Hills Hospital. Wireless access is available throughout the hospital including the cafeteria, the lobby and most patient waiting areas.
To access the wireless system, web users need to connect to the "Visitors" SSID on their wireless connection. Please note that USC Verdugo Hills Hospital cannot guarantee wireless connections for all users and computers and that hospital policy prohibits our staff from handling any laptop belonging to a patient or a visitor.