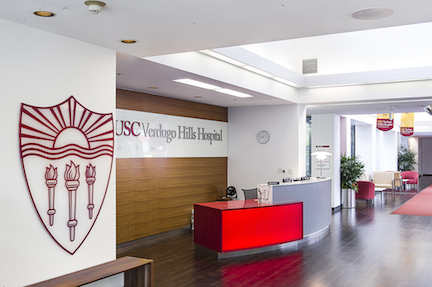 Our Mission
Our mission is to provide personalized, high-quality healthcare relevant to our patient community.
Our Vision
Our vision is to differentiate our hospital by delivering excellent clinical outcomes and superb customer service.
Our History
Four Decades Of Medical Excellence
USC Verdugo Hills Hospital began as Behrens Memorial Hospital, which was established in 1947. Instead of attempting to expand the Behrens facility, a new hospital was built on the hilltop land donated by the Greene family. In 1972, our hospital was created as Verdugo Hills Hospital and was an independent, 158-bed acute care hospital serving patients in the cities of Glendale and La Cañada Flintridge, as well as the surrounding Foothill communities of Southern California for more than 40 years.
In 2013, Verdugo Hills Hospital partnered with the University of Southern California (USC), creating USC Verdugo Hills Hospital. USC Verdugo Hills became part of Keck Medicine of USC, which includes the Keck Medical Center of USC and Keck School of Medicine of USC. All are part of USC, one of the world's leading private research universities.
Some of our milestones include:
1985 – Outpatient diagnostic and surgery services were added
1988 – Critical care units remodeled
1991 – 18-bed transitional care unit opened
1999 – Wound Care program began
2003 – Emergency Department expanded
2004 – A Balanced Life program introduced
2005 – Gastroenterology Department updated
2005 – ACCESS digital imaging and records system introduced
2008 – Digital Mammography machine introduced
2010 – Telemedicine introduced
2011 – New wireless EKG monitoring system in Cardiac Rehab
2012 – Primary Stroke Center Designation
2013 – USC Verdugo Hills Hospital created
2013 – Designated as a Center of Excellence in Metabolic and Bariatric Surgery™.
Our Leadership
Executive Team
Keith Hobbs, Chief Executive Officer
Kenny Pawlek, Chief Operating Officer
Randolph Siwabessy, Chief Financial Officer
Theresa Murphy, RN, Chief Nursing Officer
Governing Board
Thomas E. Jackiewicz, Chair
Keith Hobbs, Vice Chair
Lil DelCampo, Secretary
Members
Todd Andrews
Tamara Capretta
Carl R. Chudnofsky, MD
Robert E. Develle, Jr.
Steven Giannotta, MD
Rod Hanners
Steven Hartford, MD
Craig Moritz, MD
David Sagal
Shawn T. Sheffield
James Staten
Steve Wilder
Community Advisory Board
Robert E. Develle, Jr., Chair
Keith Hobbs, Ex-Officio Member
Jeannine Taylor, Secretary
Members
Chandnish Ahluwalia, MD
Todd E. Andrews
Armand Dorian, MD
Roderick G. Dorman
John Genovese
Steven L. Hartford, MD
Sam C. Longo, Jr.
Allan W. Perry, Jr., MD
Cecilia Pyzow
Vince Rifino
Shawn Sheffield
Sue Wilder, Vice Chair
Edward A. Wopschall, II