USC Verdugo Hills Hospital operates a full-service clinical Laboratory and surgical Pathology Department that offers both inpatient and outpatient diagnostic services ranging from tissue biopsies, bone marrow biopsies, and needle aspirations to cancer screening and reproductive tests as well as complex blood and urine analysis. The majority of testing is conducted in the hospital's own state-of-the art laboratory using the most advanced tools and technology available to provide physicians and patients with faster, more accurate results and earlier diagnoses.
The laboratory also partners closely with the American Red Cross by offering vital blood drives throughout the year to help meet the ongoing need for blood in the community.
The hospital laboratory operates 24 hours a day for inpatients. For outpatients, the lab is open from 8 a.m. to 5:30 p.m., Monday through Friday, and from 8 a.m. to 1 p.m. on Saturdays. The lab is located on the 3rd floor of the hospital.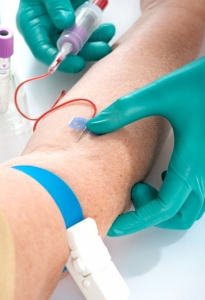 The USC Verdugo Hills Hospital Laboratory also has a conveniently located blood-drawing (phlebotomy) station:
1808 Verdugo Blvd., Suite 109
Glendale, CA 91208
(818) 952-2225
Hours of Operation:
Monday through Friday, 7 a.m. to 4:30 p.m.