The Power of Art To Promote Healing
Multiple studies have found a connection between engagement with the creative arts and health. Evidence indicates art-based interventions are effective in reducing adverse physiological and psychological outcomes.
Rotating and permanent exhibits by local artists throughout USC Verdugo Hills Hospital (USC-VHH), including patient treatment areas, are curated to create an uplifting and hopeful environment for our patients, their families, hospital staff and the community at large. Healing Arts Exhibits feature local artists, highlight the beauty of our local environs and support community partnerships.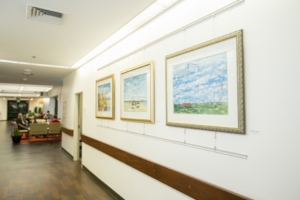 Healing Arts at the Bedside
With the COVID-19 pandemic, patient visitation has become extremely limited. To assist our patients through this difficult and isolating time, the USC-VHH's Healing Arts Exhibits have been mobilized through our Art Cart program and digitized through our Healing Arts Stories iPad program.
The mobile Art Cart provides patients with a take-home framed print of their choice from our Healing Arts Exhibit archive and is displayed bedside, during their stay. Additionally, patients have access to artist-narrated digital art exhibits, via an iPad. Studies have shown that simply viewing artwork that reflects positive images of nature or familiar scenery decreases stress and anxiety, distracts from pain and promotes a sense of comfort and connection.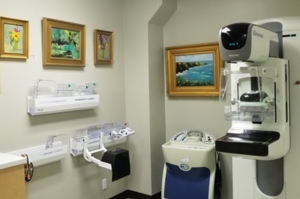 Art Therapy for Patients and Employees
USC-VHH has conducted clinical art therapy pilot projects as an integrative approach to postoperative pain management, stress reduction and adjustment to hospitalization. Additionally, art therapy is used in our physical therapy department as a rehabilitation tool with stroke survivors. And, as an engaging way to care for our caregivers, staff are invited to share their talents by participating in an annual employee art exhibit featured in our Café Art Gallery. Arts-based wellness events for our employees and volunteers are also hosted throughout the year.