About USC Verdugo Hills Hospital
USC Verdugo Hills Hospital, part of Keck Medicine of USC, has been serving the needs of patients in the cities of Glendale and La Cañada Flintridge, as well as the surrounding Foothill communities of Southern California, for more than 40 years. By bringing together the expertise of physicians from the community and Keck Medicine, we provide exceptional, comprehensive care across a broad spectrum of specialties. Our team also includes patient navigators who offer guidance and education, and coordinate care to ensure our patients are well-informed and prepared every step of the way. Our mission is to provide personalized, high-quality health care relevant to our patient community.
Part of the University of Southern California's medical enterprise, USC Verdugo Hills Hospital's services include a 24-hour emergency room, a primary stroke center, bariatric and minimally invasive surgery, OB-GYN and infant services, orthopaedic surgery, occupational, physical and speech therapy, cardiac rehabilitation and imaging and diagnostic services.
With access to world-class specialized care, clinical trials and breakthrough technology, USC Verdugo Hills Hospital continually strives to promise the convenience and personal touch of a community hospital. Residents in the Foothill communities and beyond can expect to receive exceptional patient care from the physicians you know and trust, and from those who bring additional medical expertise from one of the world's leading academic medical centers.
Sue Wilder, a volunteer at USC Verdugo Hills Hospital for 18 years, understands that when someone enters
Phil Mutchnik is easy to track down — if he's not at the movies catching the films
Nina Aghakhani, a native of La Cañada-Flintridge, knew from a young age that she wanted a career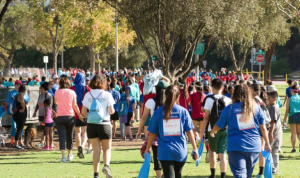 We Are Part of Your Community
We are in your neighborhood! Join us for one of our local events designed to support a healthy community. To find out about our upcoming community events or activities, click or call (818) 952-2226.