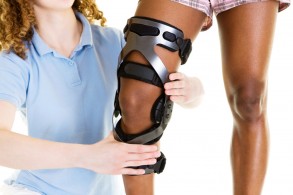 The Physical Medicine and Rehabilitation Department at USC Verdugo Hills Hospital serves more than 25,000 individuals annually who are in need of support in the areas of physical therapy, occupational therapy and speech therapy.
Our physical therapy program offers therapeutic exercise, lower-back testing and special programs in spinal, orthopaedic and neurological disorders. Occupational therapy focuses on functional activities of daily living and has a certified hand therapist who specializes in hand rehabilitation. Speech therapy evaluates and treats communication and speech problems.
Our program couples specially trained therapists in each of these disciplines with a comfortable, approachable, and convenient environment. These professionals listen carefully to their patients and work closely with them to custom design programs that address the unique physical needs of each person. Each patient receives extensive one-on-one care from the same therapist throughout the course of their treatment, thus ensuring continuity, trust and the best possible results.
Appointments are available from 7 a.m. until 8 p.m., Monday through Friday.
Free parking is available right outside our entrance.
Wellness And Training Classes
Physical Therapy Services at USC Verdugo Hills Hospital (USC-VHH) offers senior wellness and teen training programs:
Get Up & Go
Get Up & Go classes are tailored to seniors, helping them maintain a healthy lifestyle and decrease the risk of cardiovascular disease, obesity, diabetes and other health-related conditions.
Participants will:
Improve strength, balance, coordination and mobility
Exercise in a group setting that fosters wellness
Receive expert advice and instruction from a licensed physical therapist
Classes meet on Tuesdays and Fridays from 2:30 to 3:30 p.m. at USC-VHH in the Council Room, located on the 4th floor. The fee for the class is $12 per class or $88 for eight classes. Reservations are required.
Teen Training
Taught by a licensed physical therapist, this ongoing program is tailored to youth (ages 11-18) to prevent injuries and train for healthy bodies.
Our teen training classes help participants:
Improve agility and flexibility
Increase core strength
Decrease vulnerability to sports injuries
Utilize multiple exercise forms, including: balance, Swiss ball, eccentrics, bands, selective strengthening and circuit training
Classes meet on Mondays and Wednesdays from 6:30 to 7:30 p.m. at USC-VHH in the Physical Therapy Services department, located on the 3rd floor.
The fee for the class is $12 per class or $100 for 10 classes. Reservations are required.
To register for any of the listed classes offered at USC-VHH, call (818) 952-2294.
br>
Falls-Prevention Program
A Balanced Life is our comprehensive falls-prevention program, developed by physical and occupational therapists, and is designed to reduce the incidents of fall-related injuries among older adults. We use a variety of evaluation tools to identify fall risk factors and develop customized fall-prevention strategies.
Specific health-related needs that A Balanced Life addresses include:
Inactivity and declining musculoskeletal strength
Impaired balance affecting control of movements and of body center
Impaired gait and gait instabilities
Poor vision
Balance impairments
Postural blood pressure changes
Delayed reflex response and reaction time
The creation of A Balanced Life was made possible through grants from the UniHealth Foundation, the Foundation of the Verdugos, Burbank HealthCare Foundation and the Capital Group Companies Charitable Foundation.
Physical Medicine & Rehabilitation/A Balanced Life – (818) 952-2294.