What Is Cardiac Rehab?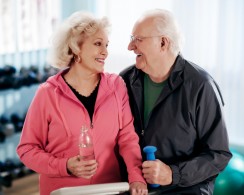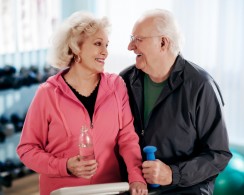 Cardiac rehabilitation is just what the name implies – rehab for your heart.
Through aerobic exercise you may improve the functioning of your heart, and maybe even lower your risk factors for cardiovascular disease, such as: high blood pressure, high cholesterol, obesity, diabetes or insulin resistance. You can also develop your muscular strength, which directly influences day-to-day functions and balance. Cardiac rehab is typically offered to patients following a heart attack, coronary bypass surgery, coronary stenting, pacemaker implantation, heart valve replacement or repair, or heart transplant.
Who Can Attend Our Cardiac Rehab Program?
Although we primarily serve those with some form of heart disease, our facility is open to anyone with a physician's approval who wishes to improve his or her health and well being. You do not have to be a cardiac patient to attend our program, just committed to a healthy lifestyle.
An Exercise Physiologist will design a personalized exercise program around your unique goals and physical abilities and follow up with you to ensure you are making appropriate progress toward your goals. We provide regular blood pressure readings and information on living a healthy lifestyle.
As an added benefit, patients in our Cardiac Rehab program form their own support network as they exercise side by side with others who have their own stories of cardiac recovery.
Physician approval is required prior to start of exercise program. Most insurance plans are accepted for monitored patients.
Appointments are needed for the initial evaluation. For more information, please call (818) 952-2229