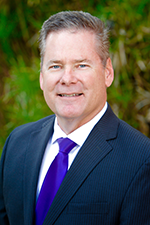 Keith M. Hobbs has served as Chief Executive Officer at USC Verdugo Hills Hospital (USC-VHH) since January 2016. During his tenure at the 158-bed community hospital, Hobbs has been instrumental in overseeing the financial turnaround, culture change and the improvement of the quality of care at USC-VHH. As part of Keck Medicine of USC's health system, Hobbs oversees USC-VHH's key service lines, which include emergency medicine, urology, labor and delivery, women's health services, orthopaedics, neurosurgery, behavior health services and transitional care, among others. Under Hobbs' leadership, the hospital has added a neonatal intensive care unit and 3D tomography; built a physician network strategy; continues to build out the health system's existing GME resident program; and is bringing an IR/Cath lab to the hospital's array of services.
With a constant eye on quality, patient experience, employee engagement, resource efficiencies and community perception, Hobbs has built a leadership team that has made tremendous strides in these areas. Hospital leadership has effectively implemented a daily tiered huddle system to improve daily communication from the front line to the C-suite to ensure regular staff communication and patient safety. Harm events have been reduced by over 64% and emergency department Press Ganey scores have moved from the bottom quartile to the top quartile nationally. Community board engagement and community health education and resources have also flourished. By focusing on revenue cycle improvements and cost saving initiatives, Hobbs and his team have improved the hospital's financials by $20 million annually over the course of three years. By building a culture of trust, employee engagement scores at USC-VHH are among the highest in the health system.
As part of the larger health system team, Hobbs serves on a number of committees, including the newly formed Diversity and Inclusion Executive Steering Committee that aims to expand efforts to embed long-lasting change in culture that will challenge institutional bias and address gaps in workforce development and approaches to care. Hobbs also serves as an executive member on the Health System Information Technology Oversight Committee, which helps determine the direction and timing of future technologies.
Prior to joining USC Verdugo Hills Hospital, Hobbs served for 14 years as the vice president of ancillary services, support services and supply chain at Children's Hospital of Los Angeles. Hobbs holds an MBA in Healthcare Administration. He grew up in La Crescenta, and all three of his children were born at USC-VHH. Hobbs currently lives in Canyon Country with his wife Merilee and is an avid golfer.