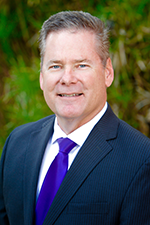 Keith M. Hobbs, MBA, FACHE, has served as Chief Executive Officer of USC Verdugo Hills Hospital since January 2016. He also serves as a member of the Health System Board for USC. Hobbs provides leadership for inpatient, ancillary, and allied health facilities by promoting teamwork, fostering efficiency, enhancing communication and establishing clearly defined goals and measurements.
Since joining USC Verdugo Hills Hospital, Keith and his leadership team have had great success in improving the hospital's performance and the value it provides to the community. Keith's areas of focus have been:
Culture — With an emphasis on employee engagement and hospital culture, great strides have been made in boosting employee morale and empowering staff.
Quality — Unwavering commitment to high quality care, putting our patient's care first and foremost
Growth — Infrastructure improvements and investments in services to meet the changing needs of our community
Financial Stewardship — Prudent use of resources, to maximize value for the hospital and our patients
Giving Back — Growing our presence in the community, engaging community groups and other nonprofit organizations
Prior to joining USC Verdugo Hills Hospital, Hobbs served in a number of leadership roles at Children's Hospital Los Angeles.
Keith and his wife, Merilee, currently reside in Santa Clarita, along with their three children.